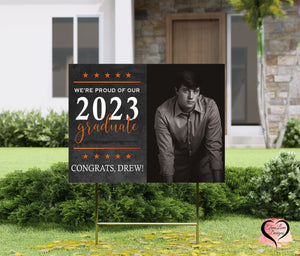 Proud of Our Grad, w/Stars, Graduation Lawn Yard Sign, Yard Sign, Outdoor Lawn Decorations, Lawn Ornaments, College Graduation, High School Graduation, Senior Yard Sign, 18" x 24", Class of 2023
Celebrate your senior and let the world know. Made with lightweight plastic and featuring the highest quality printing, this yard sign displays your photos, designs, or text in brilliant full color. Weather and stain resistant, your message will look great indoors or outdoors.
THE COLORS OF THIS DESIGN CAN BE COLOR MATCHED TO YOUR GRADUATIONS SCHOOL COLORS. PLEASE UPLOAD THE SCHOOL LOGO SO THAT WE CAN COLOR MATCH IF YOU LIVE AWAY FROM THE ARMOREL/BLYTHEVILLE AREA. WE DO NOT NEED THE LOGO IF YOU ARE LOCAL TO THE AREA. 
24″ x 18″ 4mm Coroplast
Printed on both sides
Includes layout design with custom photo
Weather resistant and lightweight corrugated plastic construction (4mm thick)
H-Stake included
To order, include the name in the personalization section, and upload the picture of the photo to the order. 
Please keep in mind that colors may vary depending on your monitor or phone screen and may vary slightly from the actual product colors. Images / designs may vary slightly from the photos due to each item being made to order just for you.

DISCLAIMER:
Color Matching...
At TrueLove Designs, we do our absolute best to ensure that the colors our our products are consistent and accurate. However, all computer and tablet screens are different and therefore unfortunately there is no way to guarantee the physical product will be received exactly matching the color that you view on your screen. We print in CMYK, however your viewing device is only able to display digital coloring of RGB, the difference in screen types, contrast, brightness, and calibrations, and color may vary. We cannot assume responsibility for the slight shade variations of products or printed colors.

Variation Tolerance...
Our shop laser cuts all of the material that we print and therefore the allowable cut tolerance of 3/16" kerf is expected to allow for the cutting beam during the cut process.

Please note that due to the delicacy of the products used, our shop will not be responsible for minor scuffs, scratches or heat marks on plastics. All of which is a common occurrence in the printing, production, stacking, and shipping of this product. Markings that are less than the size of a nickel are not considered a product defect. Please be assured that our shop utilizes the utmost care in producing your product, to prevent these situations from occurring through our production and handling. Customers must assume the risk on all orders.

Image Quality...
We absolutely love it when customers request to include an image on their signage. Please note when providing an image for printing, that the buyer is solely responsible for checking the image quality. Our printers do not recognize any image that contains the color white as it as seen as the absence of color. Therefore there will be a white ink backer that will be printed behind the image regardless of how light or transparent the image is. Buyer accepts acknowledgement of this and accepts sole responsibility for the quality of the image that is provided to our shop. Our recommendation is to provide a vector image to ensure the crispest print or a bitmap with a minimum of 300DPI. We are not responsible for poor, pixelated prints due to the image quality provided to us. Please note that taking an image from a social media site will prove to be a poor quality image with low pixelation due to the fact that the images are compressed during the uploading process. We strongly recommend obtaining the image from the original source that it was taken and submitting it that way. Please reach out to our shop PRIOR to purchase with any image questions or concerns.

---