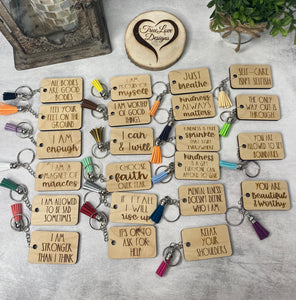 Motivational Positive Sayings Keychains, Inspirational Uplifting, Unique Message Gift, Affirmation Statement, Inspirational Message
You can't control what others say to you, but you can absolutely control what you say to yourself! Be sure to fill your mouth, mind, and space with positivity!

If you don't see the quote that you would like, please place the information in the personalization section and we will be more than happy to custom design one for you.

Size: 2.5"

**TASSEL COLORS WILL VARY**

Sayings:
- All bodies are good bodies
- Feel your feet on the ground
- I am a magnet of miracles
- I am allowed to be sad sometimes
- I am enough
- I am proud of myself
- I am stronger than I think
- I am worthy of good things
- I can & I will
- I choose faith over fear
- If I fall I will rise up
- It's ok to ask for help
- Just breathe
- Kindness always matters
- Kindness is a gift everyone can afford to give
- Kindness is free sprinkle that stuff everywhere
- Mental illness doesn't define who I am
- Relax your shoulders
- Self-care isn't selfish
- The only way out is through
- You are allowed to set boundaries
- You are beautiful and worthy

The design is professionally laser engraved into the material.

Please keep in mind that colors may vary depending on your monitor or phone screen and may vary slightly from the actual product colors. Images / designs may vary slightly from the photos due to each item being made to order just for you.

Thank you for trusting us with your business! We know your wedding/special event/gift giving deserves nothing but the best quality and we take pride in doing our best to make you proud!
---