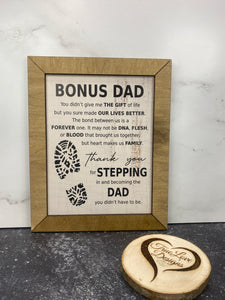 Bonus Dad, Personalized Sign, Fathers Day, Gift, Step Dad, Bonus Dad, Step Father
This personalized rustic wood sign is the perfect gift for any father, or man in your life! This item makes a great wedding gift, anniversary gift, birthday gift, or even a nice "just because".

Wood Measurements: ~ 8"x10"
All signs are fully printed on wood using a high quality ink (no vinyl or stickers) - the signs are NOT engraved

The sign can be customized with both the dad's name and the name of those giving the gift added by selecting the custom design. Signatures can also be added to the design for an additional fee.

Please specify the personalization that you want placed on the wood by indicating the information in the Personalization section of the order. The names will be printed in the exact order that they are given.
Personalization Section....
Example:
Dad = David
Love, Drew & Ryleigh (personalization type: Add names, Text)

Signatures must be scanned and uploaded at time of purchase.

Please note that the porousness of the wood will cause the stain to look unique on each individual piece.

Each piece of wood is 1-of-a-kind featuring a unique cross section of rings, swirls, and markings. Please note that no 2 pieces will appear the same. Some darker, some lighter but that is the beauty of showcasing this beautiful wood. The color option is professionally printed to the wood (not vinyl or screen print).

---