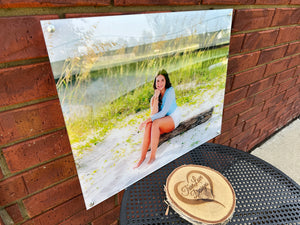 Acrylic Portrait Standoff Picture, Acrylic Glass Art Custom Print, Acrylic Photo Print, Acrylic Sign, Acrylic Logo, Glass Photo, Custom Acrylic Print with Standoff
Looking for a unique and lasting way to display your photos or artwork? Consider custom acrylic printing! Acrylic prints are made by printing your image behind a sheet of clear acrylic glass. This gives the print a stunning three-dimensional effect that is sure to turn heads.
Acrylic: 1/8"
Size: 18" x 24" 
Benefits:
- The acrylic material is strong and shatterproof, providing a durable and long-lasting product.
- The customized design ensures that the sign is unique and personalized to your desire.
To Order: 
- Upload the photo you would like to use via the upload feature. Please note the image quality information below. 
DISCLAIMER:
Color Matching...
At TrueLove Designs, we do our absolute best to ensure that the colors our our products are consistent and accurate. However, all computer and tablet screens are different and therefore unfortunately there is no way to guarantee the physical product will be received exactly matching the color that you view on your screen. We print in CMYK, however your viewing device is only able to display digital coloring of RGB, the difference in screen types, contrast, brightness, and calibrations, and color may vary. We cannot assume responsibility for the slight shade variations of products or printed colors.

Image Quality...
We absolutely love including your image/logo on our product. Please note when providing an image for printing, that the buyer is solely responsible for checking the image quality. Our printers do not recognize any image that contains the color white as it as seen as the absence of color. Therefore there will be a white ink backer that will be printed behind the image regardless of how light or transparent the image is. Buyer accepts acknowledgement of this and accepts sole responsibility for the quality of the image that is provided to our shop. Our recommendation is to provide a vector image to ensure the crispest print or a bitmap with a minimum of 300DPI. We are not responsible for poor, pixelated prints due to the image quality provided to us. Please note that taking an image from a social media site will prove to be a poor quality image with low pixelation due to the fact that the images are compressed during the uploading process. We strongly recommend obtaining the image from the original source that it was taken and submitting it that way. Please reach out to our shop PRIOR to purchase with any image questions or concerns. Also, it is best to email the image directly to us rather than sending via Etsy messenger. The email is truelovedesigns870 @ gmail.com - please include order number for easy match up. Thank you so much!
---